There are 2 sanctuaries in Perak, namely:
Tasik Bukit Merah, Semanggol Arowana Sanctuary
Tasik Raban, Lenggong Fish Sanctuary
Tasik Bukit Merah is located in Gunong Semanggol in Perak. Here, a dam was built resulting part of the area to submerged and turn into a vast artificial Lake. This lake exists with the construction of a dam that holds water flow from 3 rivers, namely Sungai Selerong, Sungai Merah and Sungai Kurau.
Tasik Bukit Merah was first built in 1902 and later completed in 1906 with the aim of supplying water to the paddy plantation area in Kerian district which is estimated to cover an area of ​​24,000 Hectares. With ​​3,628 hectares of water area, it also plays a role in supplying treated water resources to local residents through a water plant located in Pekan Semanggol.
This lake is also known as the only natural habitat for the Arowana in the world. Its beautiful body shape, coupled with the gold color on its scales makes it one of the beautiful ornamental fish and is loved by many. This fish is a national treasure that should be proud of and protected so that it can be inherited by future generations.
MyKomuniti Perikanan (myKP) Santuari Bukit Merah has been established to help maintain the sustainability of fisheries resources in the area. In addition, myKP Tasik Bukit Merah also plays a role in managing the fish sanctuary that has been established in the area where it has the potential to become an agro-tourism location in Perak, especially with the existence of the native habitat of Arowana. Meanwhile, with the establishment of this sanctuary, it is expected that many fishermen will receive benefits, including additional income from various tourism-based activities that can be carried out. This effort is also one of the ways for Malaysia to penetrate the European market with the existence of the Arowana conservation center. Arowana entrepreneurs can contribute to the release of their fish in this sanctuary when the nets are ready and installed.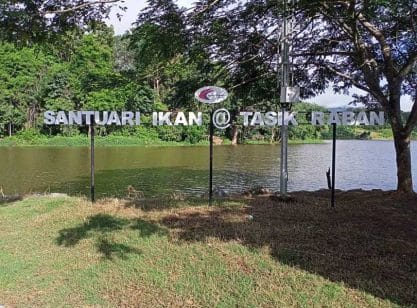 The Tasik Raban Fish Sanctuary was first established in May 2019, an idea from the Perak State Resource Management Branch in collaboration with the Department of Fisheries Perak and the Lenggong District Council. The establishment of this sanctuary aims to conserve native fish species in Tasik Raban.
The area of ​​the sanctuary is 13 acres and is located in Tasik Raban, Lenggong, Perak. A total of 20 land fishermen from the PENJARING association were involved in the establishment of this sanctuary and a total of RM 500,00.00 was allocated as initial assistance for its establishment. This sanctuary will be fully operating in 2021. Among the species of fish preserved are Lampam (Scwanenfeldii's Barb/Barboides) and Patin Sungai (River Catfish). Crustaceous species such as Udang Galah (Giant Freshwater Prawn) are also preserved here. A total of 10,000 Scwanenfeldii's Barb/Barboides, 20,000 River Catfish and 50,000 Prawn have been released into this sanctuary. Food for this preserved species of fish and prawn is borne by the PENJARING association.
The establishment of the Tasik Raban Fish Sanctuary also received support from the Lenggong District Council, Perak which sees this sanctuary as a potential area for tourism and will make it an Eco-tourism Park site. The council also contributed by cleaning the area of ​​almost 50 acres (sanctuary and surrounding area) and providing gazebo here.
The PENJARING Association is actively working on conservation activities in this sanctuary. They are also in the process of applying for Boat accomodation for the purpose of bringing tourists to explore the area around Tasik Raban. It is hoped that with the establishment of this sanctuary, local fishermen can increase their income through eco-tourism activities that will be implemented in the future. Visitors will be able to enjoy a variety of exciting activities such as feeding fish, recreational boat rides, kayaking and participating in flying fox activities when the sanctuary is fully operational later.