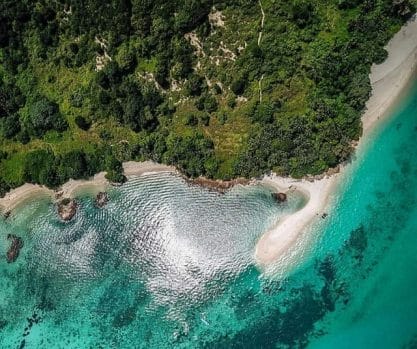 Johor Marine Park is also known as Pulau Tinggi Marine Park. It consists of the waters surrounding 13 islands including Pulau Gual, Pulau Harimau, Pulau Mensirip, Pulau Babi Hujung, Pulau Babi Tengah, Pulau Babi Besar, Pulau Rawa, Pulau Tinggi, Pulau Mentigi, Pulau Sibu, Pulau Sibu Hujong, Pulau Pemanggil and Pulau Aur. These islands are located off the northeast coast of the State of Johor and situated between 8 to 35 nautical miles from Mersing. The archipelago and its surrounding waters was gazetted as a Marine Park in 1994 under the Fisheries Act 1985 (Amended 1993).
The topography of these islands is characterized by narrow coastal fringes, sharply rising to rocky ridges and escarpments. The height of these hills can be considerable reaching up to 600m in Pulau Tinggi. The coastal fringes feature long stretches of fine sandy beaches interspersed with rock outcrops and coastal alluvia of marine origin. Most of the islands' interior is forested, with fruit trees and coconut being dominant around villages and chalets.
The islands are dominated by undifferentiated granitic rocks or overlain by Permian sedimentary material comprising of phyllite, slate and shale or subordinate sandstone and schist. Granitic rocks range from big boulders to smaller cobbles due to the continuous exposure to waves and weathering.
The climate of the island group is typically hot and humid all year round. The temperature rarely drops below 20°C even at night, and usually reaches 30°C or more during the day. Humidity is generally about 90%. The monsoon season is between November and March. During this time there is heavy rainfall and the surrounding seas are rough, making the island group almost inaccessible by boat.
The main economic activity on the island is tourism and fishing. Tourism development is concentrated mainly in Pulau Babi Besar, Pulau Sibu, Pulau Tinggi, Pulau Pemanggil and Pulau Aur. The islands are sparsely populated, with few villages, and a population of about 370 families.
There are camping sites provided to tourists at Pulau Tinggi Marine Park with a rental fee of RM10 per site. There is also a waterfall at Pulau Tinggi that can be visited and is a good picnic site for the tourists.
There are two resorts in Pulau Rawa for those who wish for night stays while enjoying the beautiful scenery of the island. Pulau Rawa is located near to mainland and it tooks only 20 minutes to arrive here using speedboat from Mersing Jetty.
A private Turtle sanctuary run by a resort owner at Pulau Tengah is another attractive place for visit. You can see the Turtle species conserve here and also know the other activities conducted by the sanctuary.
For those who are interested in scuba diving activitiies, you can join it here as there are many diving sites decorated with corals and beautiful marine life around Pulau Tinggi and Pulau Sibu.
Toilet and wash facilities, picnic tables and barbeque pits are provided at selected sites. A jetty at the visitors center allows boats to come along shore. The park management provides mooring buoys over coral reefs to allow for snorkelling and diving boats. Visitors can shop for small items of food and drinks at the village shops. For hiring of diving equipment and filling of air tanks, visitors can enquire at the respective dive shops.
The park managers provide mooring buoys over the coral reefs areas to allow for mooring of boats for snorkeling and diving. To avoid destruction of corals by anchoring activities, vessels are only allowed to anchor within designated areas.
Pulau Tinggi Marine Park has some excellent camping areas with great beaches for picnics and shallow waters for safe swimming. These can be found in the main bay of Pulau Sibu, Pulau Dayang and Pulau Rawa. Boats can enjoy sightseeing tours of the islands, seeing rock formations such as Pulau Aur and the rainforest that covers most of the island. Other activities include hiking, bird watching, cliff climbing, surfing and diving.
By Land Road and Sea
The main staging point to Pulau Tinggi Marine Park is Tanjung Leman or Mersing (both in Johor). There are scheduled ferry services (2½ hour journey) from Mersing to Pulau Besar, Pulau Tinggi, Pulau Sibu and Pulau Rawa (1 hour) & Pulau Pemanggil and Pulau Aur (2½ hours). Similar ferry services from Tanjung Leman links it to Pulau Sibu and Pulau Tinggi (1 hour).
Express bus services from major towns and cities to these two points are also readily available. The major routes are as follows:
From Kuala Lumpur to Tanjung Leman Jetty (4 hours) or Mersing Jetty (5½ hours journey).
From Singapore to Tanjung Leman Jetty (2 hours) or Mersing Jetty (2½ hours journey).
List of Scuba Diver Operators at Johor Marine Park
| No. | Name of Operator | Address | Telephone No. | Fax No. | Mobile | Email |
| --- | --- | --- | --- | --- | --- | --- |
| 1 | Dan's Nasty Frogmen Dive Base | Sea Gypsy Village, Pulau Sibu | 07-222 8642 | | 019-675 0995 | divebase@siburesort.com |
| 2 | Hi Tech Divers | Rimba Island Resort, Pulau Sibu | | | 017-7048 592 / 012-710 6855 | rimba@resortmalaysia.com |
| 3 | Orca Scuba | Rawa Island Resort, Pulau Rawa | 07-799 5433 | | 013-581 7915 | rawaisland@live.com |
| 4 | Batu-Batu Resort | Pulau Tengah | | | 017-755 2770 | info@batubatu.com.my |
| 5 | Pulau Besar Dive & Sea Sport | Besar Bagus Palace, Pulau Besar | | | 019-739 2589 | |
| 6 | Duyong Dive Centre | Kg. Pasir Panjang, Pulau Tinggi | | | 018-314 4465 | diveddc@gmail.com |
| 7 | Gilligans Dive Resort | Pulau Aur | | | 016-548 9976 | enquiry@aurislandresort.com |