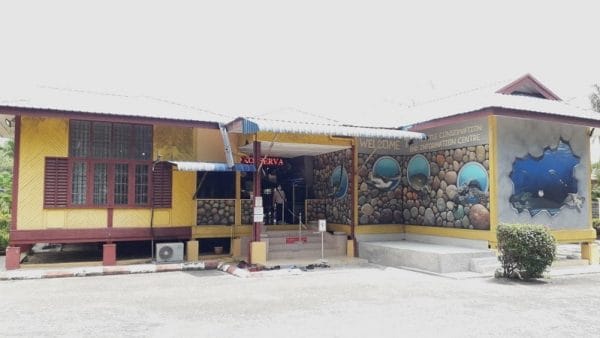 Cherating Turtle Conservation & Information Center is located at KM 45 Jalan Kuantan-Kemaman, Kuantan, Pahang. The distance between the Center is about 51 km from Kuantan and 15 km from Kemaman. The center serves as a place of conservation, hatching, protection, distribution of public information, learning, turtle species research and tourism. It is open from Tuesday to Sunday from 9.30am to 4.30pm.
The center was built in 1997 and operated on 2 January 1998 under the name Cherating Turtle Information and Sanctuary and its opening was inaugurated on 24 September 1998 by the previous Menteri Besar of Pahang, Tun Hj Mohd Khalil Bin Yaakob. In 2007, the center was declared as one of the tourism products of Pahang.
Cherating TCIC is located in the Chendor Beach area next to the Club Med resort. It is recognized as one of the main tourist locations in the State of Pahang. Chendor Beach and Cherating Beach are famous as tourist destinations in Pahang and are also fishermen villages. There is also a Turtle sanctuary run by a private resort on Cherating Beach. Snorkeling and surfing are the most common tourism activities carried out in Cherating.
The location of Cherating TCIC is close to the border of Pahang and Terengganu. It is not far from Chukai Town, Kemaman, Terengganu (about 20 minutes by car). For those who are interested, you can go to this city or to Kemaman Zoo & Recreation Park. You can also visit Jambi Mosque, Jambi House, visit mangrove swamp forest, as well as enjoy seafood dishes and local delicacies such as satar, keropok lekor, otak-otak and many more at various restaurants/stalls.
The facilities here are:
Hatchery
Resting Shack
Muslim prayer room
Toilet
Static exhibition gallery
Brifieng room/Video showroom
Turtle pool
Camping sites
On Cherating Beach there are many chalets, resorts and resort hotels. You can also choose to stay in the Chukai Town area as there are many local area facilities.
The activities conducted here are:
Incubate turtle eggs
Nurse baby turtles in turtle pool before release back to the sea
Protect turtle from any extinction threat
Conduct conservation and public awareness programs as well as Turtle research in Pahang
Provide information and awareness activities to the public
Activities that are allowed to the visitors:
Turtle conservation education and appreciation activities
Baby Turtles releasing activities
Turtle volunteer program
Tour to Turtle pool and exhibition gallery
Activities that are NOT allowed to the visitors:
Camping along the beach
Have activities on the beach at night
Make loud noise and walk along the beach at night
Disturb turtles during landing, laying eggs and returning to the sea
Use a flashlight and take pictures using a flash when turtles land, lay eggs and return to the sea
Angling alonng the beach at night
By Land Road
The center is accessible by road. You can take private or public transport such as buses, taxis and e-hailing services.
You need to go to Pahang to get to Cherating TCIC. If you are from Kuala Lumpur, you can choose to go through the East Coast Highway and exit at the Jabor Toll Plaza intersection. Next you will go through Gebeng Bypass to Jalan Kuantan-Kemaman. Continue the journey until you reach your destination in Cherating Hill. The distance from Jabor Toll Plaza to PKPP Cherating is about 30 minutes.