Rantau Abang Turtle Conservation & Information Center is located on the coastal road of Rantau Abang, Dungun, Terengganu. The length of the beach of this Center is 14 KM from Kampung Jambu Bongkok to Kampung Sungai Kuala Abang.
Pantai Rantau Abang receives landings from Leatherback Turtles and Green Turtles as well as Hawksbill Turtles where the average landing is 70 to 80 nests per year. The administration of this center manages Turtle conservation and conservation activities throughout the state of Terengganu.
There are 10 conservation centers areas administered by Rantau Abang TCIC, namely:
Rantau Abang, Dungun Turtle Conservation & Information Center
Teluk Mak Nik, Geliga, Kemaman Turtle Conservation Center
Ma'Daerah, Kerteh Turtle Sanctuary Center
Caghar Hutang, Kerteh Turtle Conservation Center
Ru Kudung, Paka Turtle and Painted Terrapin Conservation Center
Mak Simpan, Pulau Redang Turtle Conservation Center
Mak Kepit, Pulau Redang Turtle Conservation Center
Pulau Redang Marine Park Center
Telaga Papan & Kuala Bharu Selatan, Setiu Turtle Conservation Center
Tiga Ruang, Pulau Perhentian, Besut Turtle Conservation Center
The center has released more than 100,000 baby turtles back into the sea through several successful incubation processes and release programs. Rantau Abang TCIC operates daily from 8 am to 5 pm (except on Hari Raya Aidilfitri and Aidiladha public holidays). Beach patrols are conducted by staff on duty from 9pm to 6am.
Starting from 1961-1978, a total of 672,323 LeatherBack Turtle eggs were incubated. Of that number, a total of 337,063 Turtles have hatched and released back into the sea. During the period from 1967-1978 as well, a total of 12,500 turtles have landed and marked. As a result of this marking activity, it was found that 2,500 Turtles had landed back in the following years to make nests and lay eggs.
In order to carry out monitoring and conservation activities more effectively, the construction of the Conservation Center began. The Center Building was fully completed and started operations in 1985. The Center was built on an area of ​​0.5 hectares in Kampung Rantau Abang in Dungun District. The distance is 75 KM south of Kuala Terengganu and 17 KM north of Dungun. The construction of the building is fully funded by the Terengganu State Government while its management is under the management of the department of Fisheries Malaysia. The inauguration of this Center was done by the previous Menteri Besar of Terengganu, Y.A.B. Dato 'Seri Amar DiRaja Haji Wan Mokhtar Bin Ahmad on 20 October 1986.
In January 1989, this place was declared as the Rantau Abang Turtle Sanctuary in line with the declaration of the Rantau Abang Turtle Sanctuary area. This center is now known as the Rantau Abang Turtle Conservation and Information Center.
In 1991, the Ministry of Agriculture Malaysia gazetted 10 nautical miles of marine waters as a restricted fishing area (Fisheries (Prohibited Areas) (Rantau Abang) Regulations 1991).
There are many resorts and tourist centers around TCIC where this makes it easier for visitors to come and visit this Center and witness the release of baby turtles from the TCIC at Pantai Rantau Abang. Visitors can also see the process of planting turtle eggs and hatching baby turtles if they come at the right time. Among the other attractions and uniqueness found around Rantau Abang TCIC is the Cleanest Toilets in Southeast Asia as well as the Turtle Center and Marine Ecosystem (TUMEC).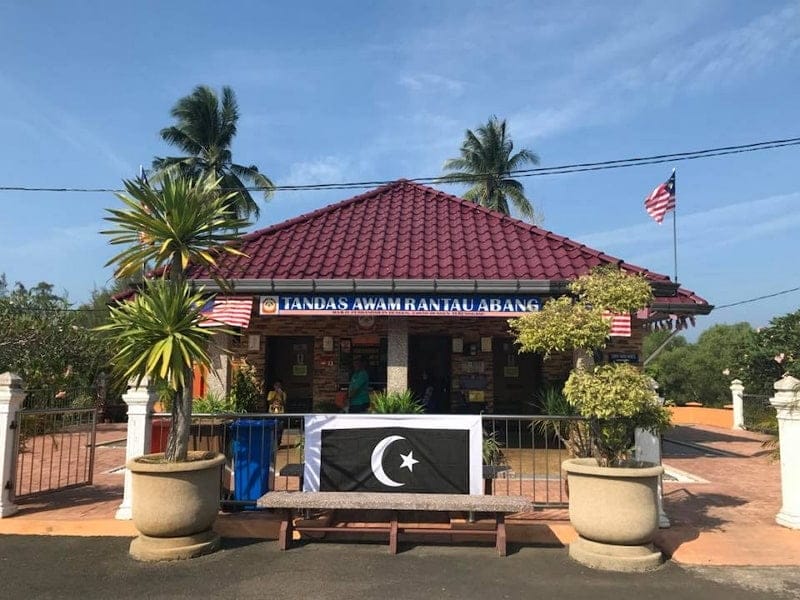 The center provides the following facilities to carry out conservation activities as well as for the convenience of visitors:
Hatchery
Turtle pool
Painted Terrapid pool
Exhibition room/gallery
Toilet
Rest stool
Muslim prayer room
Apart from Rantau Abang TCIC, the other Conservation Centers and care areas under the adminitration of Rantau Abang TCIC also have the following facilities:
Teluk Mak Nik Turtle Conservation Center – Hatcheri and Staff House
Ma'Daerah Turtle Sanctuary Center – Long House, Exhibition Gallery, Hatchery, VIP House, BP House, Muslim prayer room, Toilet and Gazebo
Caghar Hutang Turtle Conervation Center – Hatchery, Staff House & Gazebo
Pulau Perhentian Turtlle Conservation Center – Hatchery, VIP House and Guest House
Pulau Redang (Mak Kepit and Mak Simpan) Turtle Conservation Center – Hatchery
Ru Kudung Turtle Conservation Center – Hatchery
The Rantau Abang TCIC area which is close to the beach makes it a very suitable place for tourism. Near to the Center, there are many resorts and chalets along the coastal road of Dungun Beach for visitors who want to stay. Dungun Town is located 20 minutes from TCIC via Federal Road. Here, there are many facilities such as hospital, eateries, supermarkets and so on.
The activities conducted at Rantau Abang TCIC are:
Hold an exhibition related to Turtles and Painted Terrapins
Release baby turtles to the sea
Planting turtle eggs
Conduct awareness workshops on Turtles
Organizing Turtle related Courses
Community awareness program on the importance of Turtles and the environment
Education and awareness programs for school students
By Air
You can board a plane and land at Sultan Mahmud Airport. Next, you need to take a land vehicle towards Dungun Town.
By Land Road
Rantau Abang TCIC can be accessed via Land Road easily because the Center building is just right next to Federal Road of Pesisiran Pantai Dungun. You can rent any rental vehicle to get here. Apart from that, for those who drive from Kuala Lumpur, you can go through the East Coast Highway II to Terengganu and exit at the Dungun Toll Plaza junction to the left via road to Kuala Dungun (T127) – Jalan Durian Mentangau (T11) – Jalan Bukit Besi – Dungun (Route 132) – Federal Road. The journey time from Dungun Toll Plaza here is about 30 minutes.